Market Update: Pulses November 2022
OVERVIEW
There's been an increase in the cost of raw material compared to historical prices. However, this season a large portion of the overall cost is being driven by increases outside of raw material costs.
Energy has become the key driver of increased costs as opposed to the raw material itself. In 2022, as with many other products and ingredients, it's vital to look past the ingredients itself to see why we are experiencing price inflation.
| | | | |
| --- | --- | --- | --- |
| 3KG TIN | 2021 | 2022 | VARIATION % |
| TINS EURO/TIN | 0,220 | 0,490 | 122,73% |
| LIDS EURO/TIN | 0,065 | 0,100 | 53,85% |
| CARDBOARD EURO/TIN | 0,05 | 0,08 | 78,57% |
| ENERGY EURO/TIN | 0,08 | 0,19 | 140,00% |
| RAW MATERIALS ON AVERAGE | 1,08 | 1,20 | 11,11% |
| TOTAL COST PER TIN | 1,49 | 2,06 | 38,32% |
| EURO/USD | 1,13 | 1,03 | 8,85% |
CHICKPEAS
The most recent report from the Saskatchewan Ministry of Agriculture demonstrates a drop in the estimated crop for chickpeas, but improved their estimates for the quality of the crop.

US demand will be tight for 2022/23, and there will be a higher requirement for other global imports. This will likely have a bullish impact on the market.

The Indian government increased their Minimum Support Plan (MSP) for the planting of chickpeas in order to support the global crop position. However this may not be enough to encourage increased planting.

The latest number from the Ministry of Agriculture in Saskatchewan is 1,072 lb/acre versus 1,089 lb/acre.

For now, there is a expected yield of 1,300 pounds (21.7 bushels) per acre, which results in a crop of 130 – 135,000 tonnes. If that's the case, the 2022/23 export program would need to shrink to less than the 2021/22 total

For the 2022 crop, quality was slightly better than average, with 51% (vs. a 10-year average of 45%) as a 1Can, 43% (37%) as 2Can, 6% (14%) as 3Can and 0% (4%) Sample.

Based on an updated production estimate, 125,000 tonnes would end up in the top two grades.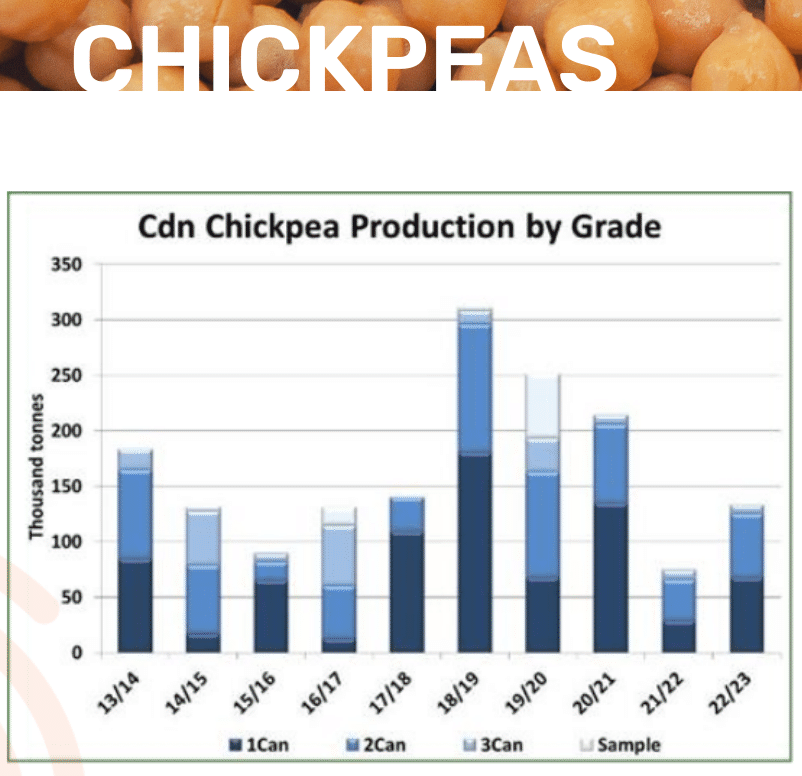 Kabuli chickpea prices in Mexico have now moved up through the range that was in place during 2021/22 and are climbing strongly.

Even though the last Mexican crop was larger, supplies are being drawn down with the next harvest not available until Q2 of 2023.
The global outlook for the kabuli chickpea market is generally friendly, although not much of that strength has shown up in the North American market yet. Prices are firming up in markets like India and Mexico where the largest calibre kabulis are traded while markets with 8-10 mm calibres are slower to strengthen.
As the export year progresses and supplies are drawn down, prices are expected to rise. That move will be stronger if farmers are less willing to part with their chickpeas
Black Beans
Peruvian new crop April has pretty much all sold and we expect demand to increase with concerns over Madagascan supply. Verry little if anything expected to come out of USA 2022. Myanmar has harvested and with freight prices easing has become competitive again.
Red Kidney Beans
North American offers still has a defensive tone to the market but a bit more positive with good yields. The harvest finished middle October.
Argentina's crop has fared better than some of their local counterparts with regards to the impact of the drought, but yields have been low as expected and again quality will be mixed. The best quality will be limited this season and it may be better to buy early to avoid the dregs at the end of the crop.
Butter Beans
US acreage losing out to more profitable crops. China remains expensive particularly with high freight. It may be a good time to consider alternative origins. Peruvian and European options are there if the quality works for your application.