Market Update: Rapeseed Oil Aug 2022
Rapeseed Oil, also known as Canola Oil, is a vegetable oil extracted from Rapeseed. It is the third most produced edible oil, after Palm and Soyabean Oil, accounting for around 1/8th of the world's vegetable oil production with global production of 27,600,000 MT.
We have seen nearly the whole EU harvest completed now, but the largest exporter, Canada is now in their harvesting season. Their yield will help to set the pricing levels for the rest of the world.
Rapeseed Oil is primarily used in the food industry for products such as frying oil, margarine and salad dressings.
As with most oils, shelf life can be up to 24 months, but advice for best results is to use within 12 months. Non-food usage includes items such as biodiesel, lubricants, candles, printer inks and cosmetics
Rapeseed oil contains the least saturated fat of all oils – as current advice confirms a diet high in saturated fat is linked to poorer heart health.

It has less monounsaturated fat than olive oil, but a bigger proportion of polyunsaturated fat, which helps to lower LDL cholesterol.

Plus, rapeseed oil contains considerably more vitamin E than olive oil – a tablespoon provides a fifth of our daily need for this powerful antioxidant.

It's also a good choice for cooking as its high smoke point allows it to retain its nutrition credentials.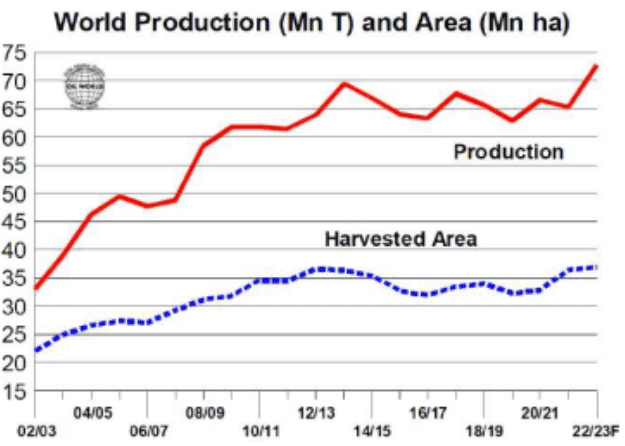 Canada:
Critical period at the moment.

This year's Canadian rapeseed plantings have been larger than initially anticipated, according to Canada Statics.

However, it is not yet clear how much of the planned acreage could not be planted or had to be replanted in Manitoba.

Crop conditions have improved in Canada in recent weeks.

Oil World estimates production in Canada at 19.6 Mts, which implies a growth of 7 Mts.
Europe:
Production in the EU has fallen due to drought, mainly in France and Germany, the largest producers in the EU.

However, production is expected to improve by around 1.2 Mts, due to the largest planting area since 2018/19.

The Spanish harvest has suffered a strong reduction in yields.

Most communities estimate below 60% of what was expected. Even so, the strong increase in surface area allows to maintain a harvest level similar to last year.
Australia:
Another large crop is expected in Australia, given the acreage.
SUMMARY
Prices are still high/increasing YoY and has now been covered in several of our market updates that look at crop based commodities:
Energy prices, along with fertilizers, labour, and transportation prices are at an all-time high.

Drought and lack of stored water in EU is causing yields of basic crops to be low.

There remains a large hole in the supply of edible oils from Ukraine. This pushes demand towards rapeseed.

The good news is that the prices are relaxing vs. last quarter, and now the harvests are being made, it is a good time to be looking at buying.