Market Update: Rice October 2022
GLOBAL OVERVIEW
Pricing of this commodity is heavily influenced by India, the world's largest exporter of the grain. Their output is pivotal to global pricing.
They've recently banned exports of broken rice, and also imposed a 20% duty on exports of various grades of rice. This will place substantial stress on global food security, and will have an inflationary impact on food prices. This export ban and duty addition will also have a subsequent impact on corn and wheat markets, deepening the inflationary impact.
Rice prices in key export regions; India, Thailand, Vietnam and Myanmar are set to rise, hitting food importers already suffering from higher costs due to adverse weather and the Russia-Ukraine war.
Supply of urea (ammonium nitrate) has tightened in Europe. This is due to halting of production amidst the ever rising energy prices. Combining the reduction in fertilizer production with the challenging weather has influenced the availability of rice.
India's domestic urea production is around 26 million tonnes, while demand is around 35 million tonnes. And, the gap is met through imports.
Thailand and Vietnam have agreed to cooperate on raising prices, a move aimed at increasing their leverage in the global market and boosting farmers' incomes.
During the latter part of August, China saw extreme highs in temperature. This has had an immediate impact on their availability, and has forced their import numbers to increase, which impacts global demand.
It is useful to note (for context) that the largest importers of rice are: Philippines, EU, China, Iran, UAE, Nigeria, USA and Saudi Arabia.
SPAIN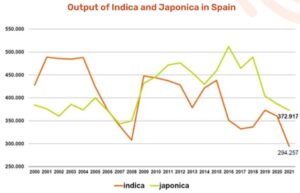 Decrease in both japonica and indica.

Heavily driven by indica, which decreased by almost 20%.

Spanish rice crop is down with 10% compared to last year.

Numbers continue to reduce since 2015, and production is 14 % lower than 3 years ago.

Largest decrease is in Andalucia (more than 35 %).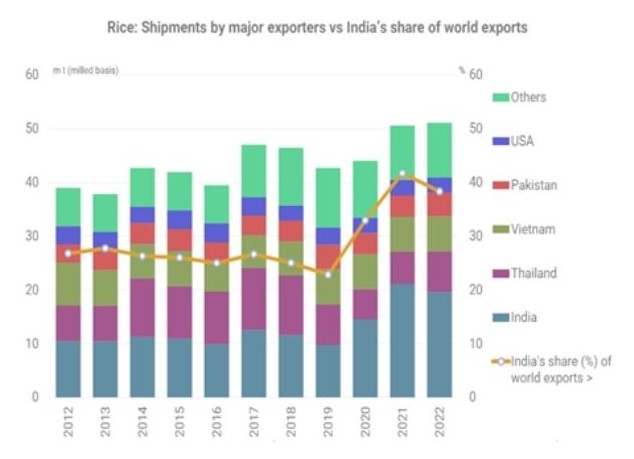 ITALY
North-Italy has been confronted with a serious drought. The Po valley hasn't seen a lot of rain. Additionally the Italian Alps had a small snow pact that will lower river levels.
High fertilizer prices, drought and high prices for soy beans have resulted in a contraction of 5 % of the rice cultivation area. This means around 10,000 hectares less and will result in 80,000 MT less of paddy. As the drought continues this will result in a loss of yield.
There has been some rain in Italy during August and September. However this is falling onto very dry, hard ground, and has arrived too late in the season, so the impact on the crop is minimal.