Our Tomato Catalogue is now live!
OVERVIEW
Our tomato catalogue shares some general information about tomatoes, our capabilities and range of products we can offer. If you need further assistance please contact us to discuss your specific requirements.
Tomatoes are a staple food in many countries, particularly in Italy, where it has been grown for centuries. Coming in many different varieties and sizes, each with its own unique name and purpose. For example, Roma tomatoes are known for their meaty texture, making them perfect for sauces, while Cherry tomatoes are small and sweet, which makes them ideal for salads or garnishes.
Tomatoes offer great versatility in food manufacturing:
Easy to process and can be prepared in many different ways, from canning and bottling it, to pureeing it and making it into paste.

Can be used as a standalone ingredient, a base ingredient, or as part of a larger recipe.

It's a blank canvas that can be paired with a wide variety of flavours and seasonings, from traditional Italian herbs to options like curry or cumin.

It can be prepared ahead of time, meaning it is great for food manufacturing where double processing is required.
All in all, tomatoes adaptability and range of different variations makes it the foundation to many mouth-watering dishes in food manufacturing.
When it comes to supplying tomatoes, managing and mitigating market conditions is crucial from a commercial perspective. Therefore, we have taken the necessary steps to ensure that we deliver the best service to our customers. We have diversified our suppliers and built strong relationships with them, creating transparency that enables us to understand and help manage different product supply chains.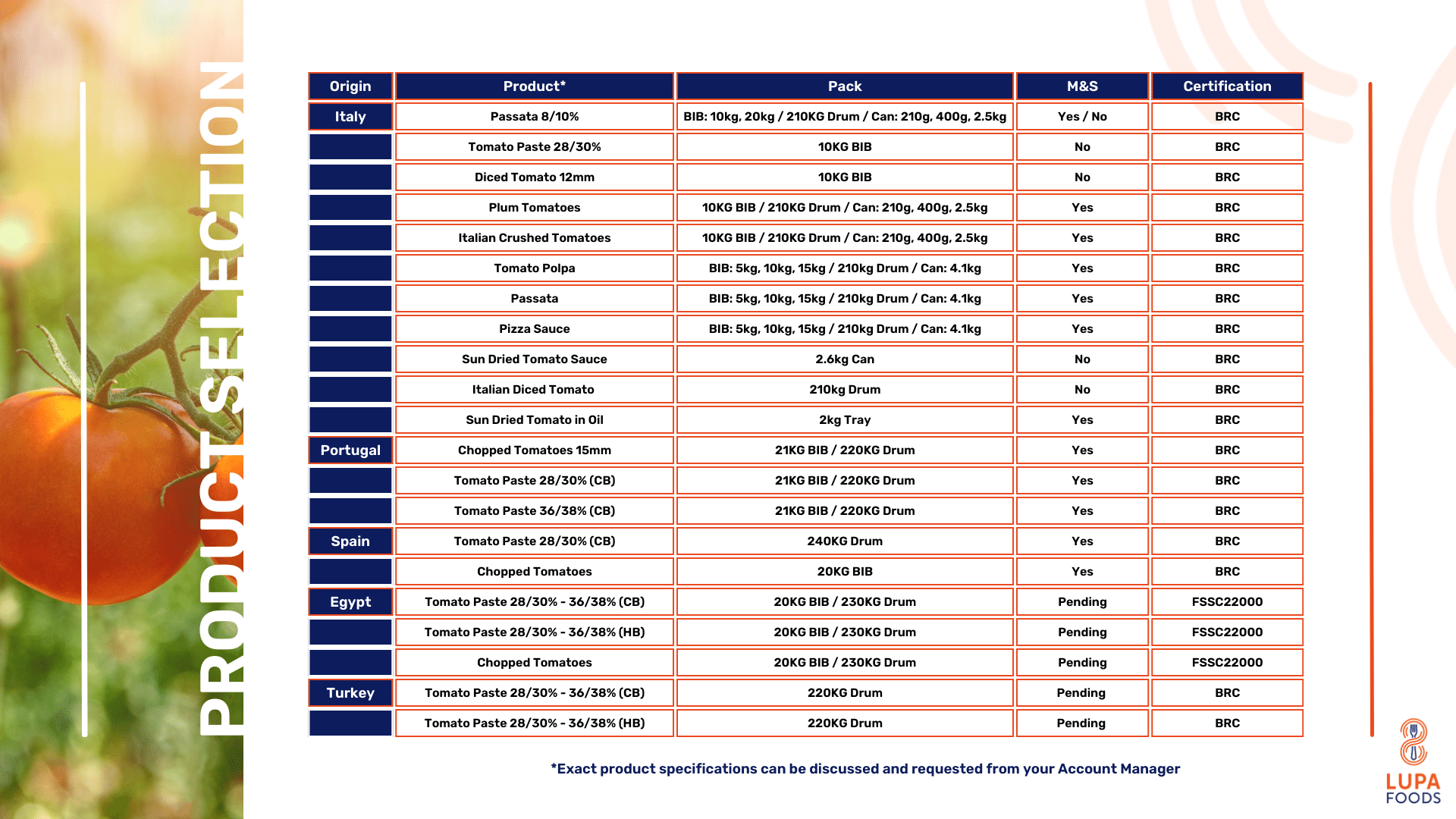 This also ensures that we have the widest selection of products available to our customers. Our flexibility in transportation and distribution options means that we can hold stock in our warehouse for quick turnaround time or deliver full containers directly from suppliers.
Our business has been A-list certified by M&S as a supplier of high-quality, sustainably and ethically sourced tomato products in the processed tomatoes category. This certification is a mark of our commitment to meeting the strictest standards in the industry.
We work closely with customers to understand their specific needs and requirements and adjust accordingly. Speak to one of our Account Managers to better understand what we can offer from a service point of view.