Market Update: Citrus November 2022
SICILIAN
The industry has experienced a challenging 2022 summer in terms of low rainfall and high temperatures.
Although this has led to poor crop development, quantities of citrus are aligned with the previous season (based on pre-harvest forecasts). The volume of citrus destined to the juice industry is usually between 30 and 40 % of the overall crop and the allocation depends on the demand in the fresh market.
| | | | | |
| --- | --- | --- | --- | --- |
| Citrus Crop | Cultivated Hectares 2022 | Overall Crop in T Season 2021/22 | Overall Crop in T Season 2022/23 | Variation % |
| | ISTAT source | ISTAT source | Forecast | Forecast |
| Oranges | 82,576 | 1,770,909 | 1,959,303 | +10 |
| Lemons | 24,766 | 466,392 | 504,085 | +8 |
| Mandarins | 8,591 | 148,734 | 149,530 | +0.5 |
As with many commodity based products in 2022, we could consider the commodity alone as being a relatively stable offer year on year.
However, due to the huge rising energy costs since the last contracting period (November 2021) and the resulting inflationary pressure, a significant increase will be inevitable.
SPAIN: LEMON
This season will start at the end of November, which is a little late compared to usual campaigns. A 20% shorter crop is expected for orange and 12% shorter for lemon. However, general availability is not expected to be a big issue this year.
As mentioned previously, the industry for Juices, NFC and Concentrates depends heavily on the demand coming from the Fresh market. Many producers and packers will be significantly pairing back their offering and availability towards new customers, and will be focusing on serving existing partnerships. This is due to the high energy levels required to press, filter and concentrate raw materials.
Simply put, the less energy required, the more attractive the business becomes to producers.
The challenge this year will be production costs that will mainly affect concentrates, so it may be a better option to increase NFC (not from concentrate) sales for this campaign. Normally, 80% of the fruit is used for fresh and 20% for industry. However, this may change during the year.
If the fresh campaign is not strong (based on the quality of the crop), there will be better availability for industry.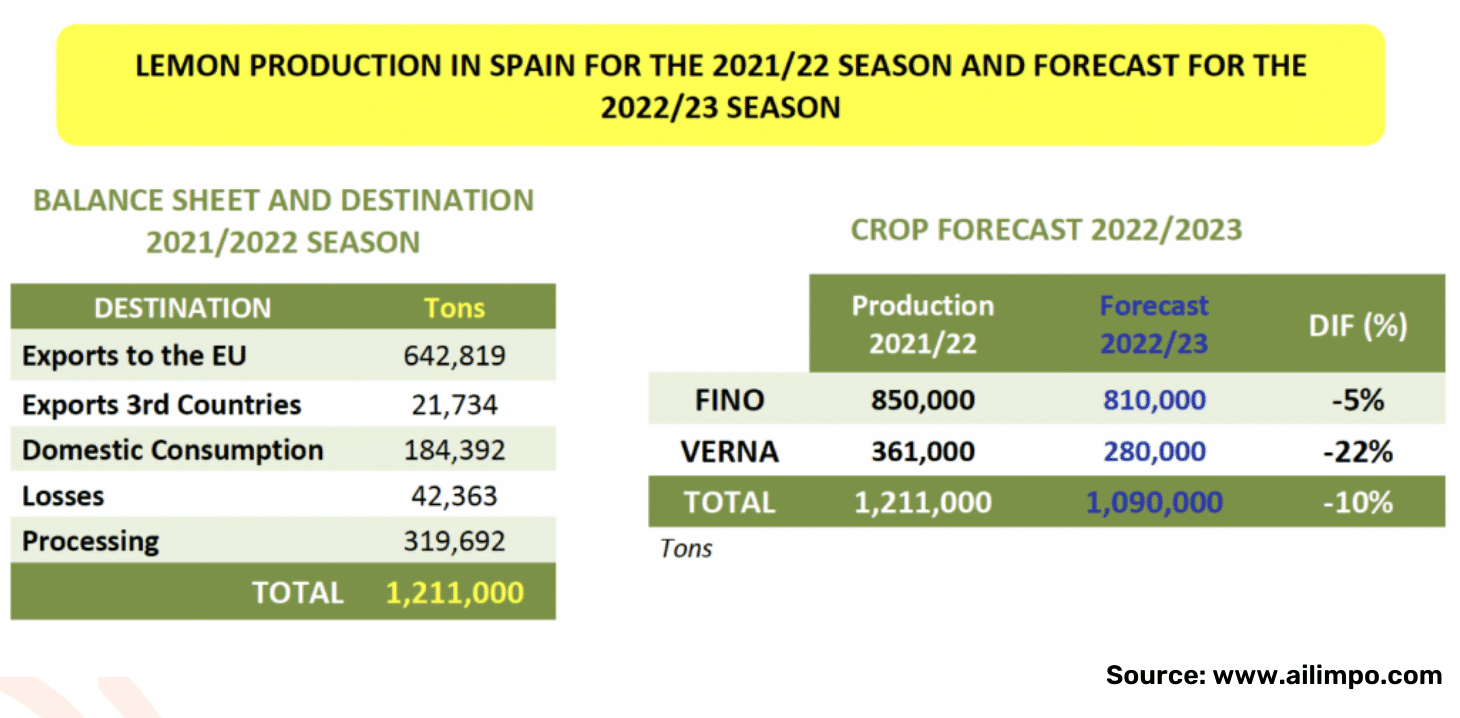 According to Fruitnet, Spanish lemon production was reported to decrease by about 4 per cent in 2021/22.
Production was estimated at around 990,000 tonnes of Lemon, of which the Fino variety made up 80 per cent and Verna the remainder.
The drop in production was chiefly due to the challenging weather conditions (very dry) which undoubtedly affected the flowering and fruit set in some growing areas.
Furthermore, the delayed development of the fruits has led to smaller sizing than previous years.
Ailimpo reported that despite competition from non-EU lemons and strong inflation, the Spanish crop/pricing through the year held out well.
The war in Ukraine also affected sales, especially in Eastern and Central Europe, since Turkey was forced to divert volumes destined for Russia and Ukraine to both regions.
Germany, France and the UK were once again the main markets. France saw a 4.3 per cent increase in sales to 77,087 tonnes to March 2022, while exports to the Czech Republic reached 15,652 tonnes compared with 10,806 tonnes in the year-earlier period.